Certified Service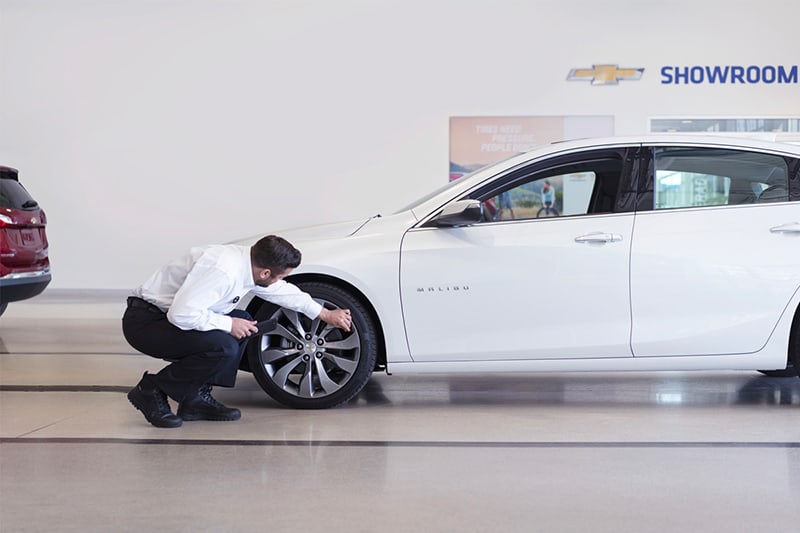 Chevrolet Service Department in Monroe
Need a quick oil change or tire service in Monroe? Facing a major automotive repair after an accident in Matthews? The Chevrolet service department at Hendrick Chevrolet Monroe is here to help with all your maintenance and service needs, regardless of the age, make, or model of your vehicle. Book an appointment to get started now, then take a moment to read on and learn more about our service offerings.
Explore Rotating Service Offers
Whether you're visiting us for tire service in Monroe or you need to have your brake pads replaced, smart service prices are always within reach at our Chevy service center. We have a helpful array of service specials on rotation year-round, so be sure to review the latest coupons before each visit!
Maintenance
Need Tire Service in Monroe?
Your vehicle's tires are the first and only contact with the road, so it is important to choose the right set when replacing them. Hendrick Chevrolet Monroe has Certified Service experts that will handle all of your tire needs. From checking tire wear and tire pressure to helping you choose new tires when the time comes, our team is here to keep you moving safely throughout Weddington!
Find Tires
Need An Oil Change Near Matthews?
Your vehicle may be trying to tell you something — Oil Life Monitoring Systems let you know when it's time for an oil change, and our Certified Service experts can recommend what's best for your vehicle. Visit our Chevy service center in Monroe to treat your vehicle to fresh oil today! Changing your oil every 7,500–10,000 miles will ensure smooth performance, optimal fuel efficiency, and long-term engine health.
Learn More
Multi-Point Vehicle Inspection
When you visit our Chevrolet service department you can complete your visit with a Multi-Point Vehicle Inspection! With your inspection, you get a thorough assessment of your vehicle by our Certified Service experts. So, protect yourself and your automotive investment with a comprehensive vehicle inspection at Hendrick Chevrolet Monroe today!
The Multi-Point Vehicle Inspection form uses a simple color-coded key to assess maintenance terms:
Red indicates items that need immediate attention.
Yellow indicates items that should be addressed in the near future.
Green indicates no items to address.
Hearing Brake Noise?
Stopping power is crucial to a safe and successful driving experience. When you need brake service, visit Hendrick Chevrolet Monroe and our GM Certified Service experts will recommend quality new brakes.
Learn More
Battery Trouble?
Your vehicle's battery provides energy to start the engine, plus it supplies power to accessories when the engine is not running. The cold of winter and the heat of summer can affect your auto battery. See us for your vehicle's battery needs.
Learn More
Our Chevy Service Center Has You Covered!
At Hendrick Chevrolet Monroe, we know how important it is to have confidence in the safety and performance of your vehicle. When it comes to routine maintenance or extensive repairs, don't take a gamble on service — visit us in Monroe for state-of-the-art equipment, knowledgeable technicians, and genuine OEM parts. We have a comfortable lounge where you can relax and enjoy a refreshment or get some work done while you wait! Have questions or need assistance scheduling an appointment? Contact us at your convenience and our service advisors will get back to you swiftly.
Contact Service
3112 Hwy 74 W, Monroe, NC 28110